Metal Shelving and Racking
Metal Shelving and Racking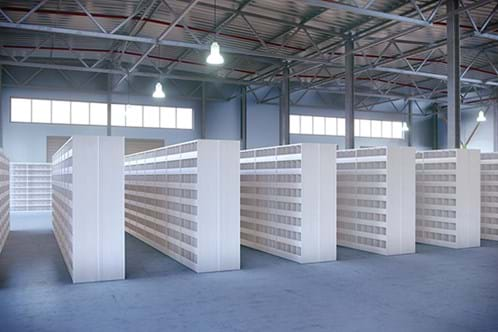 A stylish steel shelving solution with modular functionality - optional accessories include dividers and lateral filing systems. A great all-rounder shelving solution. Up to 100kg shelf load.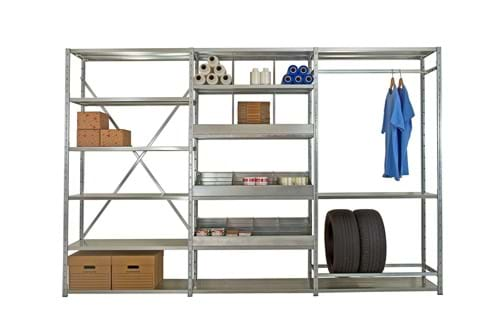 Expo 4's friction metal shelf clip enables the simplest and quickest bolt free adjustment of shelves, in this uniquely flexible metal shelving system. Great for the office, stockroom or warehouse.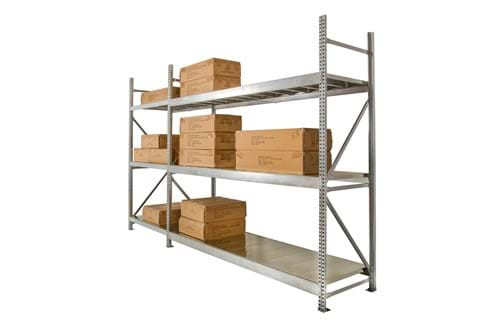 Galvanised metal shelving from The Storage Bay is for applications where the hardest wearing finish is required. The range includes long span metal shelving for bulk storage, tyre racks and a short span garment handling option is also available
Discover the Versatility of Adjustable Metal Shelves at The Storage Bay
If you're looking for effective storage solutions, adjustable metal shelves are the go-to for both home and business spaces, providing versatile and easy to access effectiveness.
Here at The Storage Bay, a specialist in storage solutions for any industry or purpose, we offer a wide range of these adjustable metal shelves and racks, making organisation effortless and storage optimisation a reality for our customers.
Metal Shelving and Racking - A Class Apart
Metal shelving and racking systems have revolutionised the way we organise and store our belongings. They are designed to provide stability, durability and flexibility, making them an excellent choice for various purposes and spaces. At The Storage Bay, our metal shelving and racking collection boasts a diverse selection of sizes, designs and load capacities, catering to different storage needs.
Whether you're looking for metal shelving to store your business accounts in the office, or to organise your busy cluttered garage at home, we have a product to suit you.
The shelves are constructed from high-quality steel, ensuring longevity and resistance against wear and tear. The adjustable nature of these shelves allows for customisation depending on what you're storing, and what space its in. Whether it's in a garage, warehouse, office or even at home, metal shelving is designed to maximise space and ensure easy access to stored items.
Prices and Products
The Storage Bay offers a wide range of metal shelving and racking products, ensuring that customers can find the perfect fit for their requirements and budget. The pricing is competitive, and customers can choose from various options like bolt-less shelving, heavy-duty racking, chrome wire shelving and more. No matter your preference, each product is designed to withstand heavy loads while maintaining structural integrity, providing you with peace of mind that your belongings are safely stored and won't fall or get damaged.
Why The Storage Bay?
Quality Assurance: The Storage Bay takes pride in offering products that meet the highest quality standards. Our metal shelving and racking options are built to last, providing a reliable storage solution for years to come.
Diverse Selection: With a wide variety of sizes, load capacities and designs, customers can find the perfect shelving solution that suits their needs and space constraints.
Expert Guidance: The Storage Bay's team of experts is available to assist customers in choosing the right metal shelving and racking solution. Whether it's for a small garage or a large warehouse, they provide personalised recommendations to ensure optimal storage.
Easy Assembly: Many of the metal shelving options offered by The Storage Bay are designed with simple assembly in mind. This means customers can set up their storage solutions quickly and efficiently, perfect for customers who want a fast application.
Who Would Need Metal Shelves?
The versatility of adjustable metal shelves makes them ideal for a wide range of customers. From organising garages, basements and attics to creating more efficient kitchen and closet spaces, homeowners can benefit greatly from the adaptable storage options and create a more seamless living environment.
Warehouses, offices and retail spaces can also utilise metal shelving to maximise their storage capacities, streamline operations and enhance overall organisation.
Individuals who enjoy DIY projects can appreciate the easy-to-assemble nature of these shelves, making them perfect for creating customised storage solutions for spaces with unique measurements i.e. underneath stairs, in an attic. They can also provide a great place to store their equipment including tools and materials.
Whether it's a vast book collection, hobby supplies or memorabilia, collectors can also keep their treasures organised, accessible and safe with adjustable metal shelving.
In conclusion, adjustable metal shelves and racks from The Storage Bay provide an innovative solution to the ever-growing need for efficient storage. With a diverse selection of products, competitive pricing and a commitment to quality, The Storage Bay is the go-to supplier for anyone seeking to enhance their organisation and storage capabilities. From homes to businesses, these metal shelves offer an unmatched blend of durability, versatility, and functionality, transforming cluttered spaces into organised havens.